How does the KORshield work?
The KORshield has a rubber neck seal that you pull over your head before you enter the shower. This keeps water out from under the cape preventing water leaking onto your catheter site. You adjust the cape so that it covers your catheter site completely. Shower normally; however, you need to clean carefully the area under the cape so that you keep water from coming in contact with the catheter site.
When you are done with your shower, dry your hair and face and carefully, remove the KORshield by pulling it over your head (you can stretch the opening along the side of your neck), and hang it in the bathroom where it can drip and dry.
It is made from high quality, heavy-duty polyurethane-coated ballistic nylon to be waterproof and take the abuse of years of use.

Patients who have used the KORshield have been thrilled to be able to take a shower again. It is amazing how this simple addition to a person's daily life can make such a difference.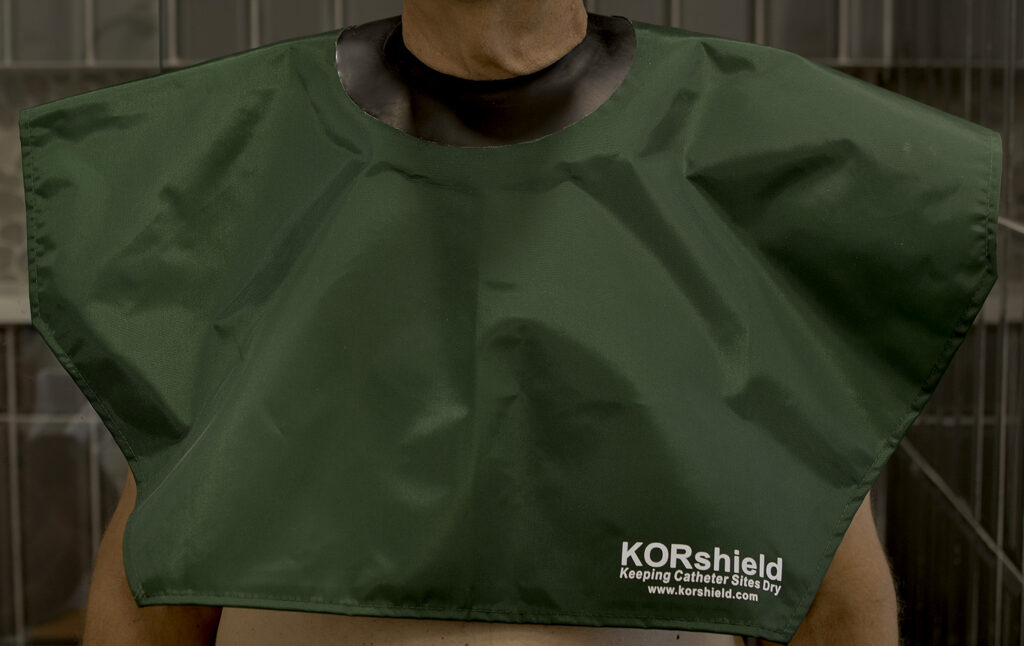 •Stretchable neck seal in two sizes
•Water beads on the KORshield cape
•Physician preferred
•Protect catheter site from direct water contact
•In sizes to fit any neck
•Reusable, eliminates "jury-rigged" solutions
•Unconditionally one year guaranteed